Class 9 Registration Form Open for 2081 exam. Please view full notice from official notice bord.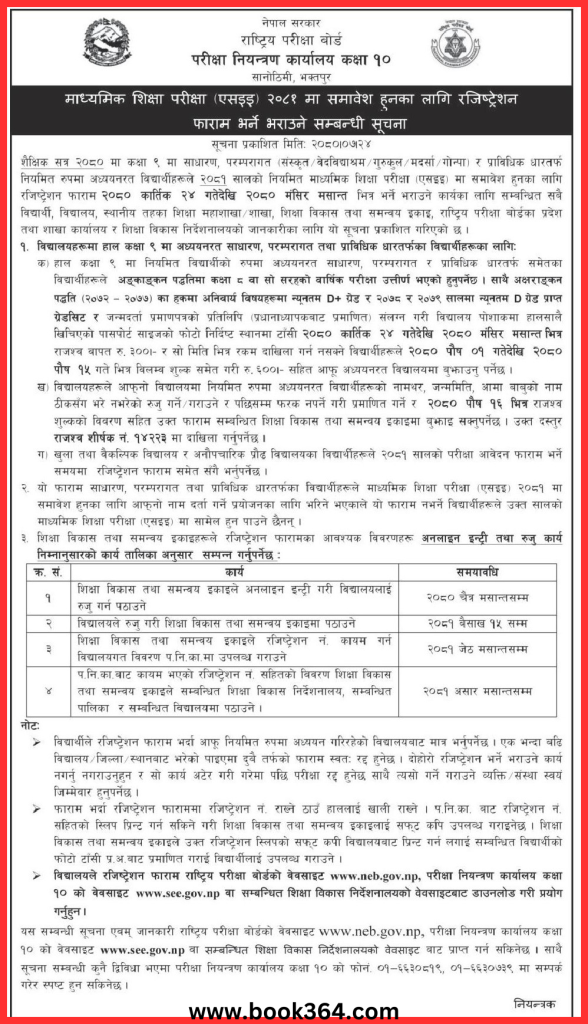 Government of Nepal
National Examination Board
Examination Control Office Class 10 Sanothimi, Bhaktapur
Registration for appearing in Secondary Education Examination (SEE) 2081
Notice regarding Form Filling
Notice Publication Date: 208007724
In the academic session 2080, the students who are regularly studying towards the regular, traditional (Sanskrit / Vedavidyashram / Gurukul / Madrasa / Gonpa) and technical stream in class 9, 2081, to participate in the regular secondary education examination (SEE) 2081, registration form from 24th Kartik 2080 to mid-November 2080. This notification has been published for the information of all students, schools, local level education division/branch, education development and coordination unit, state and branch offices of National Examination Board and directorate of education development for filling in.
For ordinary, traditional and technical stream students currently studying in class 9 in schools: a) Students who are currently studying as regular students in class 9 including ordinary, traditional and technical stream students should have passed the annual exam of class 8 or similar in arithmetic system. Also, in case of alphabetic system (2072 – 2077) minimum D+ grade in compulsory subjects and grade sheet with minimum D grade in 2078 and 2079 and attached copy of birth certificate (attested by principal) recent passport size photograph in school uniform pasted at designated place from 24 Kartik 2080 to 2080 Rs.300 for the revenue within the middle of November.- and the students who cannot deposit the amount within that date will be charged a late fee of Rs. 600/- should be submitted to the school where you are studying. b) The schools will have to register the name, date of birth, and parent's name of the students studying regularly in their school and verify it so that it does not matter until later and submit the form to the relevant education development and coordination unit with the details of the revenue fee within 16 days of 2080. The said document revenue title no. 14223 will have to be registered.
c) Students of open and alternative schools and non-formal adult schools should also fill the registration form at the time of filling the 2081 examination application form.
As this form is filled by the students of general, traditional and technical streams for the purpose of registering their names for inclusion in the Secondary Education Examination (SEE) 2081, students who do not fill this form will not be allowed to join the Secondary Education Examination (SEE) of that year.
Education Development and Coordinating Units have to complete the necessary details of the registration form online entry and registration according to the following schedule:
No. No.
work
time period
1
The Education Development and Coordination Unit will send the online entry to the school for enrollment
2080 till the end of Chaitra
2
The school will receive and send it to the Education Development and Coordination Unit
2081 till 15 Baisakh
3
Education Development and Coordination Unit Registration No. Provide school details to P.N.C. for maintenance
2081 by the end of May
Registration no. Details including education development
4
And the coordination unit will send it to the relevant education development directorate, the relevant municipality and the relevant school.
2081 by the end of June
Note:
>
While filling the registration form, students should only fill it from the school where they are studying regularly. If found to be filled by more than one school / district / location, both the forms will be automatically cancelled. Do not do the filling of double registration and if you do it later, the examination will be canceled and the person/organization who did it will be held responsible.
When filling the form, registration no. Keep the place empty for now. P.N.K. From registration no. A soft copy will be provided to the Education Development and Coordination Unit so that the slip can be printed. The education development and coordination unit ordered the soft copy of the registration slip to be printed from the school and pasted the photograph of the concerned student. A. Provide it to the students by certifying it from
The school should download and use the registration form from the website of the National Examination Board www.neb.gov.np, the website of the Examination Control Office Class 10 www.see.gov.np or the website of the relevant Education Development Directorate.
Information and information related to this can be obtained from the website of the National Examination Board www.neb.gov.np, the website of Examination Control Office Class 10 www.see.gov.np or the website of the relevant Education Development Directorate. Also, if there is any ambiguity regarding the information, it can be clarified by contacting the Examination Control Office Class 10 on 01-6630819, 01-6630739.
www.book364.com
Controller